WhistlePig The Boss Hog Edition
Whistle Pig Boss Hog for Sale, The 6th Edition of Whistlepig's Boss Hog Series is a single barrel, bottled at proof, and one of the most unique juices.
On the rare occasion that Dave Pickerell's five promises are realized, The Samurai Scientist is the epitome of WhistlePig's odyssey to unlock the potential of Rye Whiskey.
The Boss Hog Edition 六 is the first American Whiskey finished using Japanese Umeshu, the result of a true collaboration between WhistlePig and the Kitaya brewery on Japan's Kyushu island.
This well aged Straight Rye Whiskey was created using koji fermentation. Each bottle is adorned with The Samurai Scientist – Jōkichi Takamine – who pioneered koji fermentation in the American whisky industry over a century ago.
Each bottle barrel is bottled at strength, between 120 – 122 proof.
SIZE: 750mL
REGION: Vermont
PRODUCT TYPE: Rye Whiskey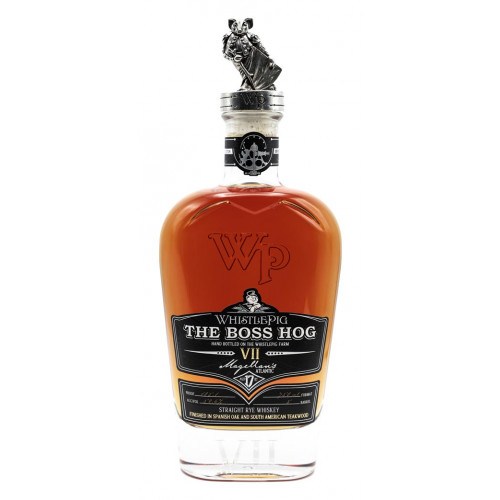 WhistlePig Boss Hog Edition Tasting Notes
Nose: Cinnamon, maple syrup, and toasted marshmallow
Palate: Bold, with tobacco, ginger, baking spices, and savory umami
Finish: Long, with oak spice, char, and just a touch of smoke
Distillery Information
WhistlePig began when we purchased our farm in 2007. After a few years of deep consideration and personal reflection, we committed ourselves to craft the world's finest and most interesting Rye Whiskeys.
With help from Master Distiller Dave Pickerell, we discovered and purchased an incredible stock of 10 year old blending Whiskey in Canada that was being profoundly misused.