Detailed Description of Wild Turkey Master's Keep Cornerstone Rye
Wild Turkey Master's Keep Cornerstone Rye in stock is the fourth release in the Master's Keep series, and the oldest rye whiskey ever released by Wild Turkey.
For this one-of-a-kind Limited Edition, Eddie Russell hand-picked and set aside a secret lot of his oldest and boldest rye whiskey barrels, all aged from 9 to 11 years, then used his nearly four decades of experience to create a perfectly balanced spirit.
Aromas of vanilla, black pepper and toasted rye give way to cascading flavors of honey and baked apple before a long and lingering finish of spice and oak.
Distillery Information of wild turkey master's keep cornerstone
In 1891, Thomas Ripy built the Old Hickory Distillery in Tyrone, Kentucky, near Lawrenceburg, on the former site of the Old Moore Distillery.
After Prohibition, the Ripy family (Thomas had died in 1902) repaired the distillery and began to again produce bourbon.
The Ripys sold the bourbon produced at this distillery to various wholesalers who bottled bourbon under their own brands. Austin Nichols was one of these wholesalers.
The "Wild Turkey" brand is said to have arisen after an Austin Nichols executive, Thomas McCarthy, took some warehouse samples on a wild turkey hunting trip in 1940.
The bourbon proved so popular among his friends they denyd to ask him for "that wild turkey bourbon." Austin Nichols began to bottle Wild Turkey in 1942. wild turkey master's keep rye for sale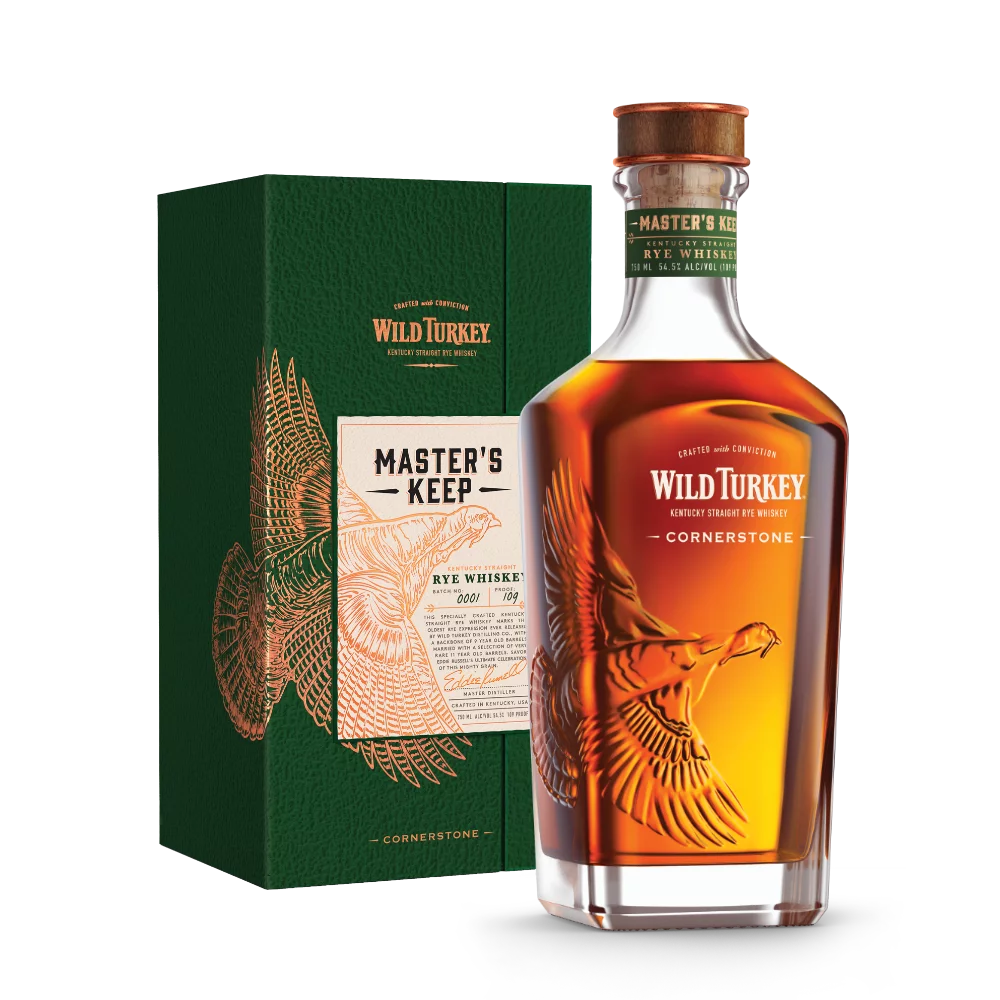 Where To Buy Wild Turkey Master's Keep Cornerstone Rye?
**Retailer advises either in stock or in route to their location. Usually ships within one to four business days. Longer processing times can occur especially around holiday(s). Some items may become backordered or delayed without notice due to demand & will ship out upon arrival. Overseas products typically have longer processing times.
The fourth Wild Turkey Master's Keep release, "Cornerstone," is a Kentucky Straight Rye Whiskey bottled at 109 proof, aged with juice between the ages of 9 and 11, and approved by Master Distiller Eddie Russell. The name Cornerstone was chosen as an ode to rye's history as the very first American whiskey.
SIZE: 750mL
 REGION: Kentucky
VENDOR: Wild Turkey